I would like to thank Heather from
The Land Of I Can
for nominating me for Liebser Award! I really appreciate your nomination, Heather!
The Liebster Award is an award for new blogs. Liebster is a German word that means: BELOVED, CUTE, LOVELY, DEAREST, and WELCOME.
To accept the nomination I must:
1. Link back to the blog that nominated me
2. Nominate 5-11 blogs with fewer than 200 followers
3. Answer the questions posted for me by my nominator (Heather)
4. Share 11 random facts about myself
5. Create 11 questions for my nominees
6. Contact my nominees and let them know I nominated them
Here are my nominees:
1)
Mrs.Black's Bees
a such a cute blog with a ton of activities for emergent readers and more! Check it out!
2)
Little Learner Toolbox
I loved the tips and tricks for those who are just starting out as sellers on TPT. This blog will also keep you up to date with the newest technology and apps. This new "Ca-ching" app is way too cool!
3)
Mrs. Brigg's Class
is a blog filled with great ideas including those for Social Studies. I am looking forward to reading more of Ellen's posts.
4)
Grasty's 2nd Grade Goodies
I just LOVE Leah's blog design! This is an awesome blog for second grade teachers! Check it out!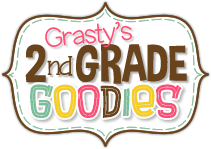 5)
Pawsitively Teaching
is such an adorable and well thought out blog! This teacher-blogger is currently teaching 2nd grade and has fourteen years of teaching experience in Kindergarten through 4th grade! Wow! Can't wait to read more of her posts!
Questions from Heather:
1. What grade do you teach and why do you love it?
I teach 3rd grade. 3rd graders are so sweet and still love their teacher!
2. What is your favorite book to read to your students?
I love "Clementine" by Sara Pennypacker. It's a great children's book and is going to be a
classic.
3. What do you love more: sticky notes, hole puncher, or dry erase markers?
Can't imagine my life without dry erase markers but do love that hole puncher :)
4. What is your drink of choice to get through the day?
I stopped drinking pop and coffee over a year ago, as I got onto a healthier lifestyle. I've always loved tea
and even more now.
5. Favorite school lunch that your cafeteria serves but you might not actually eat?
That would be pizza :)
6. How long have you been blogging?
I set up my blog last year, but was a little apprehensive at first about sharing my teaching
experience with
others. It took me awhile, and now I enjoy it. And the best part of it is meeting
so many amazing teacher
bloggers!
7. What is your favorite TPT product?
I love "Christmas Around The World Scrapbook" by
Sarah Cooley
. Such a fun and creative unit!
8. What holiday do you look forward to most during the school year?
I look forward to all of them as it gives me a chance to pretty up my classroom, create more
holiday activities and lessons, and celebrate with my lovely group of students.
9. What do you do with your summers?
Ideally I enjoy visiting my family in Ukraine :) As this opportunity comes rarely, I spend my
summers catching up on some housework, creating more lessons, relaxing with my son and
husband somewhere on the beach or at the hotel.
10. Do you pick out your school outfit the night before or the day of?
This is a big one for me as I love fashion, style, and comfort. So yes, I do pick my outfit the
night before.
11. What do you wish all your students would know before coming to your class?
I wish they had better reading-comprehension skills coming to 3rd grade, but I do understand
that English is their second language (just like it is for me), so I incorporate a lot of fun and
exciting
activities to help them
become better readers.
Here are my questions for the nominees:
1) How do you spend your free time?
2) How do you juggle your family life, teaching, blogging and creating lessons? Do you use a planner?
3) Do you work out?
4) Are you scared of anything?
5) Describe yourself in 5 words.
6) Cake or chips?
7) What was your favorite toy as a kid?
8) What is your biggest achievement in life?
9) Your funniest moment in the classroom.
10) Your celebrity crush.
11) If you were granted 3 wishes, what would they be?
I am looking forward to reading your responses! Good luck!